Follow the India vs Australia, 2023 live cricket score on Sports.NDTV.com. After 26.0 overs, India are 117. Get live score, ball by ball commentary and much more. Keep track of India vs Australia, 2023 today match between India and Australia. Everything related to India and Australia match will be available on Sports.NDTV.com. Stay updated with India vs Australia live score. Do check for India vs Australia scorecard. You can get scorecard updates, match related facts. Get quick live updates with ads, Sports.NDTV.com, which is the perfect destination for live cricket score.
Australian bowlers have vindicated their skipper's decision to bowl first and how. A dominant bowling display led by Mitchell Starc has helped them bowl India out for a paltry total of 117. Like the first ODI, it was Mitchell Starc who set the tone early, accounting for Shubman Gill. After that early scalp, he did lose his radar on a few occasions but bounced back striking twice in two deliveries. He then went on to remove the in-form KL Rahul to put India in more trouble. After being brought on as the first change, Sean Abbott came to the party as well to reduce India to 49-5. Having picked in the side for this game, Nathan Ellis dismissed Virat Kohli and Ravindra Jadeja to break the back of the Indian batting lineup. Sean Abbott then went bang, bang before Mitchell Starc claimed the final wicket.
25.6 overs (0 Run) OUT! TIMBER! A five-wicket haul for Mitchell Starc! Mohammed Siraj fails to see out the last delivery and India have been bowled out for just 117 runs here. Starc comes over the wicket and serves this on a good length, angling in, but straightens after hitting the deck, Mohammed Siraj tries to keep it out, but plays down the wrong line and the ball goes through to shatter the stumps.
25.5 overs (0 Run) An appeal for LBW, but turned down. Steven Smith takes the reviiew though. Mitchell Starc lands this on a good length and around off, angling in, Mohammed Siraj looks to block it out, but misses and gets hit on the pads. UltraEdge shows no bat involved and Ball Tracking shows that impact is umpire's call and wickets is missing. The on-field decision remains and Siraj now has one ball to play out.
25.4 overs (1 Run) A low full toss, on leg, Axar Patel clips it towards fine leg for a single now. Mohammed Siraj has two balls to survive.
25.3 overs (0 Run) Back of a length and around off, Axar Patel guides it towards third man, but denies the run.
25.2 overs (6 Runs) SIX! Two in a row! Mitchell Starc bowls this full again and down the leg, Axar Patel moves a bit across and whips it over the fine leg fence for another maximum.
25.1 overs (6 Runs) SIX! BANG! Axar Patel goes big now! This is pitched up, on middle, and in the slot, Axar Patel stays in his crease and lofts it towards the long on fence where the ball falls directly into the cushions for a biggie.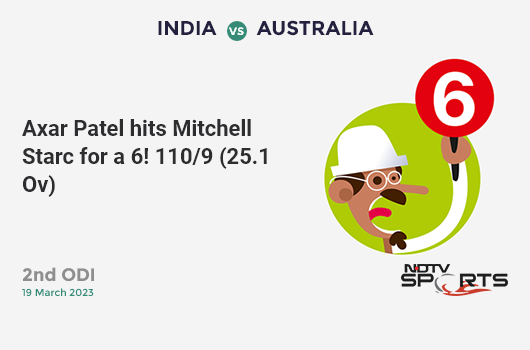 Match Reports
Topics mentioned in this article